Delta DC-UPS Module
DRU-24V40ABN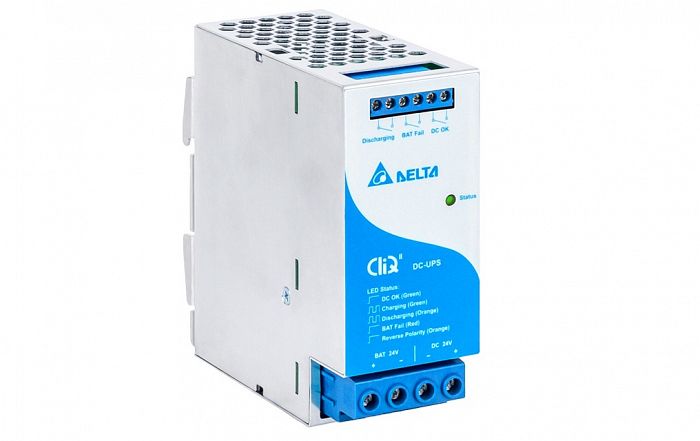 Full corrosion resistant Aluminium chassis. Suitable for 24V system up to 40A. Built-in diagnostic monitoring for DC OK, Discharge and Battery Fail by relay contacts. LED indicator for DC OK, Battery Fail, DC Input, Battery Reverse Polarity and Battery Discharge. High MTBF > 500,000 hrs as per Telcordia SR-332. Wide operation temperature range from -20°C to +60°C. Conformal coating on PCBA to protect against chemical and dust pollutants.
Main specifications dru-24v40abn:
Nominal DC Input Voltage: 24Vdc
DC Input Voltage Range: 24-28 Vdc
Input Current: Charging Mode: 2.0 ± 1A
Efficiency at 100% load: Charging Mode: > 70.0%
Buffering Mode: >99.0%
Charging Time: < 3 hr ± 1 hr for battery 24V/15AH
Nominal Output Voltage: 24V
Nominal Output Current: 40A
Output Voltage Range: 23-28Vdc
Voltage Drop (Vin and Vout): Charging Mode: 0V between DC input to load
Buffering Mode: 0.1V between battery to load @ 40A load
Dimensions (L x W x D) : 121 x 50 x 117.3 mm
Dimensions (L x W x D) : 4.76" x 1.97" x 4.62"
Unit Weight : 0.60 kg (1.32 lb)