Delta DC-UPS Module
DRU-24V20AMN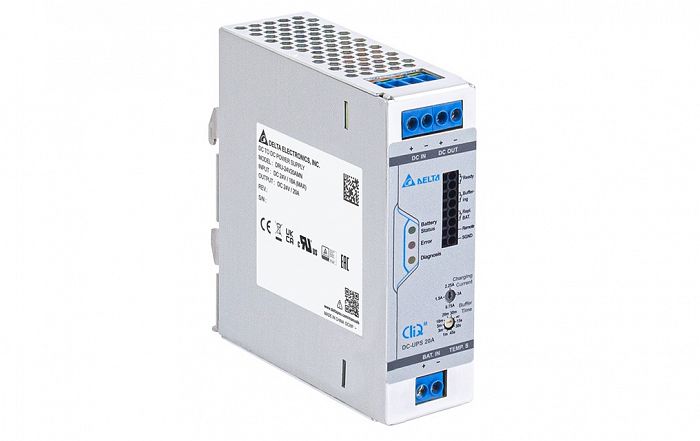 Full corrosion resistant aluminium casing. Suitable for 24 V system. Built-in diagnostic monitoring for Battery Ready, Buffering and Replace Battery by relay contacts. LED indicator for Battery Ready, Battery Fail, DC Input, Battery Reverse Polarity and Battery Buffering. Selectable Charging Current. Selectable Buffering Time to prevent battery over discharge. Battery temperature protection to extend battery life. Conformal coating on PCBAs to protect against common dust and chemical pollutants.
Main specifications dru-24V20AMN:
Nominal DC Input Voltage: 24Vdc
DC Input Voltage Range: 18-30 Vdc
Efficiency at 100% load: 98% typ.
Charging Time: < 6 hr ± 1 hr (3 A charging current for 24 V/12 AH battery)
Nominal Output Voltage: 24V
Nominal Output Current: 20A
Output Voltage Range: 17.5-29.5Vdc
Dimensions (L x W x D) : 124 x 38 x 117 mm (4.88" x 1.50" x 4.61")
Unit Weight : 0.53 kg (1.17 lb)