Delta Redundancy Modules
DRR-40A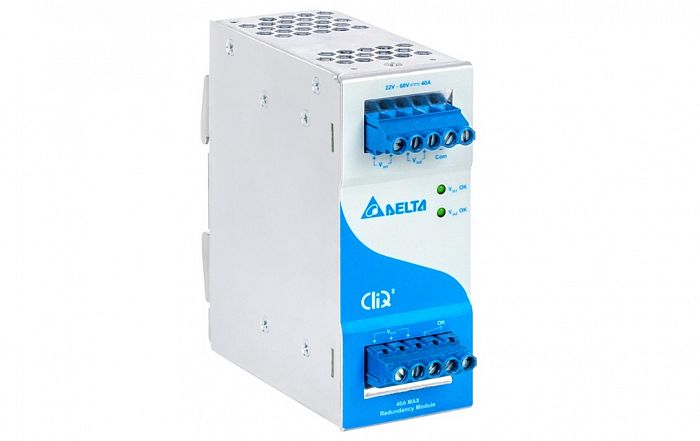 RoHS Compliant. Relay alarm indirection. Built-in 2 channel DC OK signal. Caused by rugged handing. Conformal coating on PCBA to protect against chemical and dust pollutants. Class I, Div 2 Hazardous Locations. Ease of wire connection to terminals. Wide Input & Output Range 22-60 Vdc. Full corrosion resistance aluminium chassis even with deep scratches. ATEX approved.
Main specifications drr-40a:
Nominal Input Voltage: 24-48 Vdc
Input Voltage Range: 22-60 Vdc
Input Current: (1+1 Redundancy) = Nom.2 x 25 Amps
(N+1 Redundancy) = Nom.2 x 20 Amps
(Single use) = Nom. 40 Amps
Nominal Output Voltage: 24V
Nominal Output Current: 40A
Voltage Drop (Vin and Vout): Typical 0.65V
Dimensions (L x W x D) : 121 x 50 x 122.1 mm
Dimensions (L x W x D) : 4.76" x 1.97" x 4.81"
Unit Weight : 0.52 kg (1.15 lb)