Delta Sync series
DRS-5V50W1NZ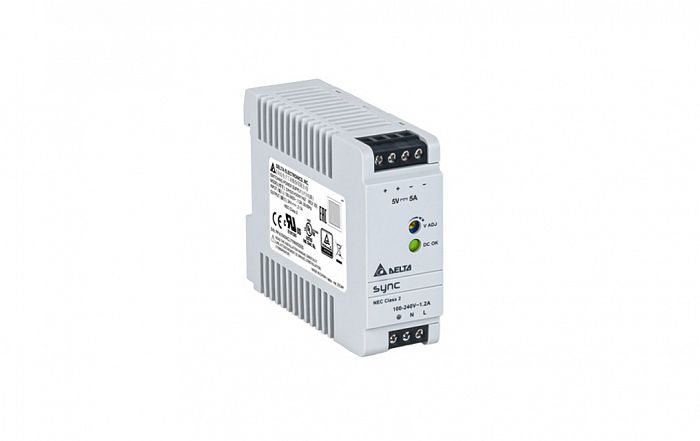 Ultra-compact size and galvanic isolation up to 3.0KVac between input to output and input to ground. Universal AC input voltage and full power from -10°C to +55°C operation. Up to 89.0% efficiency. Low earth leakage current < 0.5mA @ 264Vac. Built-in DC OK relay contact option available. Extreme low temperature cold start at -40°C. NEC Class 2 / Limited Power Source (LPS) certified.
main specifications drs-5v50w1nz:
Nominal Input Voltage: 100-240Vac
Input Voltage Range: 85-264Vac
Nominal Input Frequency: 50-60Hz
Input Frequency Range: 47-63Hz
DC Input Voltage Range: 120-375Vdc
Nominal Output Voltage: 5V
Output Voltage Adjustment Range: 5.0-5.5Vdc
Output Current: 5A
Output Power: 20W
Dimensions (L x W x D) : 75 x 30 x 89.5 mm
Dimensions (L x W x D) : 2.95" x 1.18" x 3.52"
Unit Weight 0.16 kg (0.35 lb)