1500 W Compact-Sized MEB Series for Medical and ITE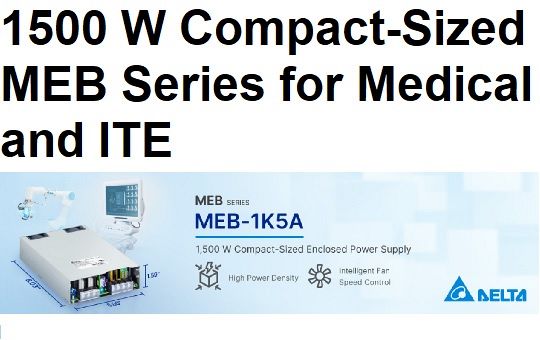 Delta expands the MEB Series with the launch of the 1,500 W medical grade enclosed power supply - MEB-1K5A. The MEB-1K5A is a compact 5" x 8.03" x 1.59" and provides a single output voltage of 24 V and 48 V. It provides an additional 5 V / 2 A standby output and up to 92% efficiency at 230 Vac input. The power density is up to 23.5 W/inch³ and has a wide operating temperature range from -20°C to +70°C (full power available to +50°C). The MEB-1K5A 48 V model can further support up to 2,200 W peak power for 300 ms. Additional features include current sharing, analog voltage trimming, remote on/off control and intelligent fan speed control.
The MEB-1K5A is certified to medical and AV/ICT equipment safety approvals, including IEC/EN/BS EN/ANSI/AAMI ES 60601-1, IEC/EN/BS EN/UL 62368-1. The MEB-1K5A 24 V model complies with IEC/EN/BS EN 60335-1, IEC/EN/BS EN 61558-1, IEC/EN/BS EN 61558-2-16 for household appliances and EMC standards EN 55011/EN55032. It also meets the EN 61000-3-2 harmonics as well as EN 61000-4 and EN 60601-1-2 (Edition 4) immunity standards.
The MEB-1K5A is applicable for industrial applications such as collaborative robots, laser machines and test and measurement instruments, as well as medical applications such as ultrasound and aesthetic equipment.